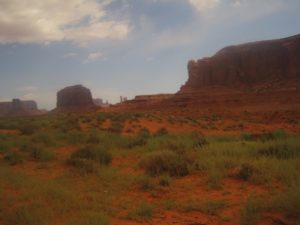 (In honor of the Southwestern national parks, the freedom, and gift to experience them
while we still have them, and the dirt I was born twice in)
This is Acoma, Albuquerque, Arizona, Canyonlands USA- where from the diner next door you can see blues and mostly purples that signify that at 10 to 10 the sun is still setting. And from the hotel room, you can pretty much see the whole city glitter like some mob wife's jewelry safe. This is the state where arches frame the sky like it knew it was the most beautiful shade of blue you would ever see- maybe even more than how that boy from class' eyes looked when nobody was watching and you'd tease each other. And here, on sunburnt rock, you remember when you'd slap your heart, praying for more time together. The way you would with every boy you got achy over.
Here, bony reservation dogs run in and out of arches owning a mystic quality so powerful you can't help but touch, knowing that years ago Navajo Indians put their own fingertips so gingerly on these edges, in awe of how they were touching the same curves their ancestors had years before. Here, you drive 100 miles a day, racing the heat waves down the road. Here, you drive 100 miles a day only to see one other person who, when they're not driving 100 miles a day, sells handmade jewelry and seed pots on the side of the road, in back of their truck, near one of those mesa villages with the port-a-potties. Here, you drive 100 miles a day to the hotel, only to be kept up all night by fears of rattlesnakes on linoleum tiles some woman in an SUV put in your head after you climbed and climbed, trying to get to where you could see the whole valley, like it existed in some shallow bowl your mom uses back home to break eggs in.
Here, you stand on rock, watching rain showers 50 miles away because that's the way things are here. And right here is where at night you swear to God you can hear the summer breeze speak to you, whispering the strangest and most cosmic combination of sounds and all you can do is stare at the sky through the skylight, trying to whisper back but finding you can't do like they did.
This is the village where you feel you're on Mars and snake carcasses lay beside the dirt road. And you kneel beside them, imagining what you'd do if they suddenly came alive. Here is where you scare yourself with that and stand up quickly, roughly rubbing the extraterrestrial dirt stains off your knees, the stones embedded in skin.
Here, everybody owns a pickup truck and your dad tells you about when we owned the pickup back home. This is the village where you often wish you were back home. Where Pueblo Indians say they can hear the breeze speak to them the way you thought it did. And you stay up all night wondering if it's real. And here is where every night the sky explodes into reds and pinks and you know standing atop a mesa is the best place to be at that moment. But this is also where you know a couple miles down the road, there's a hotel with the most beautiful middle-of-desert blue pool.
Here, you found it & you found it & you found it and you watched your dad meditate while the indescribable expanse of canyon opened themselves up to him and all the voices came back and whispered to you Arizona, Arizona, Arizona. And at that point, you knew they were real.
This is the state you still think about back home on days and nights like these because it's a whole other planet out there. Fiercely foreign yet gentle enough that you feel intensely unimportant in a way that can only make you feel cool. And yeah, I feel so cool.