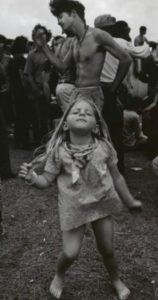 Before I entered my teenage years, I would picture how my face and the faces of the people I knew my age would look once we reached them. When I became a Bat Mitzvah at age 13,  family members gave me a necklace with a symbol of their religion on it. A symbol meant to tell me that I was supposed to be something other than who I was. Bat Mitzvah translates to "daughter of the commandment". It is clear which commandments I will answer to. They still ask me why I never wear it.
It is with small strokes people paintbrush over personhood. Choking can come in the form of a light silver chain. Oxygen filled my lungs in the eyes of my Rabbi. Acceptance tastes like all the things you were told you could never be, but knew that you already were.
I am seventeen and I still wait for sudden changes in faces but faces seem the same. No longer do I have the same jewelry box that I had at 13. I know flames who seek no electricity in order to burn. This naked necked girl is no longer blinded by the brightness in distant holiday lights.