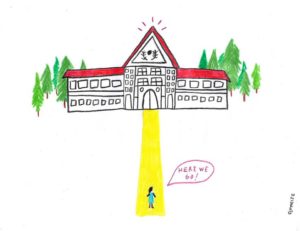 Dear Diary,
January has come to an end, which means in a month exactly I'll be a university student. The times has come fast, really fast. It all seems like a blur right now. Last year was the most bizarre experience I've been through. I always thought of it as this cool, High School Musical extravaganza: everything would turn out just fine.
My senior year as I look back at it, I can sense joy but also lots of anxiety and a bit of sadness. So much to do in one whole year: get my grades to a decent level for uni, figure out what I wanted to do with my life, turn 18, find a prom dress and date, etc.  Through this process I also met new creative, loving people, which basically made my year. They gave me strength when I was falling out with friends I've known for half my life.
2016 was the year of self acceptance, I got to know who I really was or wish to be. Now I'm out of school for good, I do feel more free than before. I'm officially an adult now. I personally don't perceive myself as a "grown up" yet, but I have this power all of a sudden. I think of myself as someone important now, like I finally have a voice that can make a change. I'm going to make choices and decisions without constraint.
I screamed and shouted when school was over. I'm really excited for this new start but I'm not gonna lie, fear is in the back of my head. Fear of not making any friends, fear of disappointing people, of fail, fear of getting my hopes up. But mostly fear of getting caught in this recent freedom I've acknowledged. For me, university means a liberty taken, so I'm not going to hold back. It doesn't matter if I'm afraid, I'm about to dive into MY future, MY rules.
NOTE TO SELF: "you cannot live hiding from failure or rejection. It is posssible, but it's also not  life."
Love, 

Tami