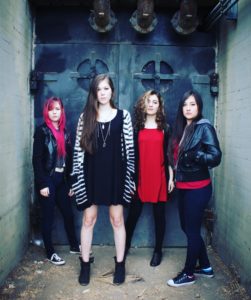 Crimson Apple is a Hawaii born, but L.A. based all-girl band, consisting of four uber talented sisters. Colby Benson (Lead Vocals, Keys, & Key-tar), Shelby Benson (Lead Guitar & Vocals), Carthi Benson (Bass & Vocals) and Faith Benson (Drums) all work together to create beautiful, repeat-worthy tunes.
I recently got in contact with the group and had the privilege of being my nosy self with them. If you wanna know how these girl-bosses came to place/how you can be one too, read on!
Q: Hey girls! Thanks so much for taking the time to be a part of GRL MAG. So what prompted you all to form a band? Have you always been involved in music or was there a "eureka" moment where you realized this was something you wanted to pursue?
Colby: We haven't always been playing music together, but we've always been involved with the arts (Competitive Dance, Musical Theater, etc.). I've been singing since I was 9 and have always dreamt of being a professional singer. When I was 15, I auditioned for American Idol and made it as far as Hollywood Week.
After I was cut, I realized that I was too shy and needed more experience. I was given the advice to put together a band, so I asked Shelby and a few friends to help back me up in what we called the "Colby Benson Band" (Eek! That name still haunts me to this day). After about a year and a half, a few of the members had to leave. It was around this time that Faith and Carthi both expressed interest in their perspective instruments, thus, the start of Crimson Apple.
It's funny how it seemed like such a good idea at the time. In hindsight, we now realize that we had just brought in two people who barely knew how to play their instruments into a band that had gigs lined up within a month! It seems so crazy now, but it honestly just felt right. When we started playing together, it immediately felt as if it was the way things were always meant to be. We actually thought it would take a long time to get the band going, but with Faith and Carthi's strong determination and drive, we grew at a very rapid rate. Crimson Apple has been the best decision we have ever made.
Q:
I like to think that a band works like a well oiled machine; every part of it is needed to function and even if one tiny part is missing, it wouldn't work correctly. What does each member of Crimson Apple bring to the table?
Like the drums, Faith is our strong foundation. Her need to practice 24/7 and her silly, bubbly attitude brings discipline and a strong, uplifting energy to the band!
Much like the bass, Carthi is very mellow and laid back. She's the one who bridges us together; she brings peace and tranquility in stressful situations. She also brings a creative, out-of-the-box perspective.
Colby is the voice of the band; our frontman and leader. She is straightforward, driven, and confident. With her musical knowledge, she provides music direction and technical expertise (she's also our audio engineer).
Shelby brings the fire to the band, not only through her guitar skill and creativity, but also through her passion and strong-will. She does a lot of the behind the scenes work as Band Manager. Shelby takes on booking, communication, web-design, and social media.
Q:
Do you have any specific artists you'd say Crimson Apple gains inspiration from? I'm definitely getting some Paramore vibes.
Carthi: As a group, our all time favorite band is a Japanese group called "ONE OK ROCK". You're definitely right about Paramore, though…we love them! We're also inspired by bands like Twenty One Pilots, Young the Giant, and Muse.
Q:
Tell me a bit about the process of how you guys create music; is there a mastermind behind the lyrics/melodies?
Colby: Our songwriting is very collaborative. Because we're sisters, we have a certain chemistry when we work together to the point where we finish each other's thoughts. Usually one of us will come up with a cool hook or melody and we build from there. We like to start with the instrumentation and melody before we write any of the lyrics. We strongly believe that our music should say everything that needs to be said on its own. Once we're happy with the instrumentation, we all sit down together and write the lyrics.
Q:
How do you think being an all-girl, group changes the dynamic of a band?
Shelby: We've all worked with a lot of different musicians, and from our experience, there's no discernible difference between working across genders. In our opinion, what makes the band dynamic are the different personalities, musicianship, and perspectives on music. Being in an all-sibling band, now that's a different story!
Q: Oh that's right! How's it been working with each other? I know when I'm around my brother too much, we get sick of each other and start bickering real quick. 
Shelby: It's actually been pretty amazing! Starting the band together has really brought us so much closer together; we're literally each other's' best friends. It definitely helps that we're sisters and that we totally get each other. None of us has to feel uncomfortable or embarrassed sharing ideas and critiques. Of course, we aren't without bickering, but that's the great thing about being family–no matter what, we know we're in this together and we love each other!
Q: How did you come up with the name, "Crimson Apple"? Does the black and red attire have anything to do with it?
Faith: After months of debate, countless random band name generators, and "colorful" suggestions *ahem ahem*, we realized the name "Crimson Apple" was right under our noses the whole time. One of the first (and favorite) songs we used to cover back when we started was "Wine Red" by The Hush Sound. The lyrics of this song really stuck with us and eventually inspired our name. As far as the black and red goes, we like to wear cohesive armor when we head off to obtain musical glory (lol). But yeah, in all seriousness, the name definitely plays a part in our attire.
Q:
What to you is a sign of ultimate success? For some bands, it's performing at Madison Square Garden and for other's it's about gaining a massive following. When do you think you're going to feel like you've totally, "made it"?
Carthi: Our main goal would be to get to a point where we can support ourselves playing music and doing what we love. Beyond that, we'd like to take things as far as we possibly can. We hope to someday play huge stadiums and tour the world.
Q: What, thus far, would you say has been the greatest accomplishment in your careers? Your latest album, Hello, has garnered some great success!
Colby: I think we'd all agree that one of our greatest accomplishments was our CD Release Party for "Hello".  It was so amazing seeing a culmination of years of hard work and months of party planning become one great night. It was absolutely incredible and humbling to see so many people there supporting our music.
Q: What's next for Crimson Apple (i.e. a US/Canada tour, new music, etc.)?
Shelby: We're hoping to record a few singles and maybe an EP in the near future. Also, lookout for our YouTube, we're planning to put up a lot more videos this year!
Q:
What do you have to say to those who have similar dreams of making it in the music industry or of following their own respective passions?
Shelby: I guess the biggest thing we'd like aspiring artists to keep in mind is that you should always remember why you're doing what you're doing. The music industry is tough, it's almost as if it tries its best to break you; we honestly can't count how many times we've been rejected or let down. But luckily, we have each other and the reminder that we seriously love what we do. It also helps that we have some really amazingly supportive people and fans in our lives, and that's really everything. Bottom line: Don't ever give up on your dreams, they're taking you somewhere!
Check out Crimson Apple's new album Hello!
Head over to their website and follow them on Instagram.