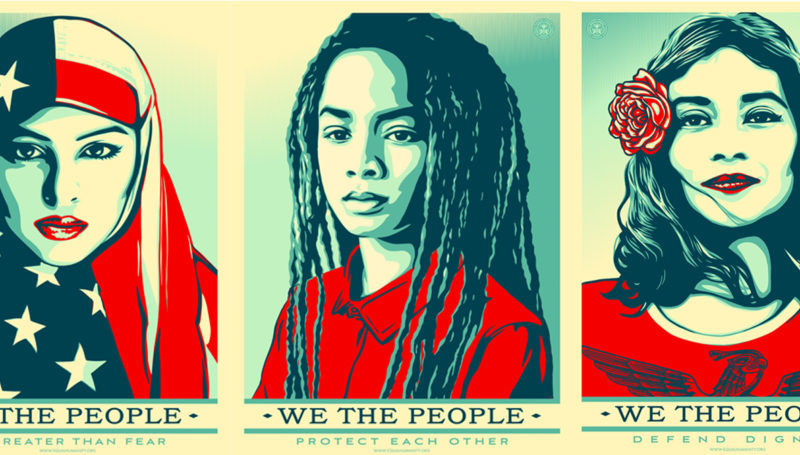 On January 21st, 2017, the Women's March on Washington saw the presence of women, men, and members of all sorts of marginalized communities around the world. People flashed the popular Shepard Fairey posters, as well as posters of their own with clever phrases. It was truly an astounding and inspiring event—a sight worth seeing.
In case you're wondering, no I wasn't present at the march. I'm merely a supporter and an observer. And what I observed was history. I observed a key historical event happening right in front of me, happening right in front of all of us. What I could think—while I was scrolling through pictures and social media posts—was that I was seeing something that could be studied in the future. We could be seeing this event in textbooks some day.
Why do I label the Women's March as a key historical moment? Intersectionality.
The way I see it, the Women's March was not just a protest that asserted the empowerment of women, but it was also a movement for minority groups and communities. One particular thing that I saw a lot of was a poster depicting a young Muslim, Bangladeshi-American woman [like myself] in the colors red, white, and blue. Like Rosie the Riveter or Molly Pitcher, the Muslim woman portrayed on the Shepard Fairey poster was a representation of the strong, resilient, patriotic American woman. This poster is crucial in that it normalizes the Muslim Bangladeshi woman as being a part of American society.
The two other posters show a Latin-American woman and an African-American woman. One of the defining characteristics that separate the subjects of these posters from previous figures is that the woman does not have to represented as white. She can be Asian-American, Latin-American, or African-American.
But these remarkable posters aren't the only things that stood out to me on my feed. I was able to see photographs of women I knew who attended the March and see their experiences and views. One of the women I know from Instagram, writer Iman Ibrahim, said that "I think it was perfect even for those who became victims of the election to finally voice their concerns and fight for what they deserve because we have been silent for too long." She also mentioned, "I went to the March keeping in mind that I am protesting the disrespect to my very type of existence."
Another young woman, Athena Quddus, said that "The March meant a lot to me because it gave me an opportunity to stand up for what I believe in, especially as someone from a Muslim family facing Islamophobic sentiments this election season."
However, I must also take a moment here to pause and include that not everyone feels the same way. Mariah Dalton, a young woman who also attended the Women's March, noticed the large number of white women at the March. She mentioned that during speeches that mothers of police brutality victims were not given proper respect by some protesters. "In weeks following, when white women criticized women of color for not showing up in droves like they did, and women of color responded saying they felt excluded, that's real because that's what happened."  Even with the inspiring posters and presence of minority groups, it seems that white feminism played a role in the March as well.
While the Women's March as a collective movement appears to represent more inclusion, it's important to remember that at some of the actual protests, there was racial bias.
However, even with the bias, and flaws, I argue that the Women's March is and was a historical marker. As a whole, people of various colors and beliefs came together to fight for and defend essential human rights.  There are some downsides to the March and it wasn't perfect, but I do think it was still a step in the right direction.
The fact that it took place at the start of 2017 is refreshing, setting the bar high for what we, as as writers, activists, speakers, doers, and warriors can accomplish this year and the years that are to come.