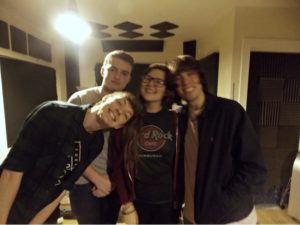 Walking into Brand New Friend's band rehearsal is like stepping onto the set of a mid-90's indie film; they practice in the Cathedral Quarter area of Belfast, all bars and live music which pours onto the cobble streets, lively with cheery ambience even in the mid-week Thursday evening.
"Exclusive scoop; we've literally just written a new song as you walked in there" I'm told as we settle on the sofa, surrounded by Bowie, Dylan, and The Clash posters. I realise right there that Brand New Friend, the four-member indie pop band from Northern Ireland, are probably the coolest people I've met in real life. There's Lauren, Queen's University student who sings and plays synth, her brother, lead vocals and frontman Taylor who also plays guitar, Aaron, health centre worker by day, bassist by night and Luke, still at school, on drums. The conversation is fluid and jovial, peppered with pop culture references and I walk away from the interview with a list of new music to check out the length my arm.
The band has been together for little over a year. What started as Taylor's solo acoustic guitar project expanded when he "bullied Lauren into joining and threw a synth in front of her," he laughs over at his sister, "she's a much better singer than me." It grew from there; the duo wrote their first song and christened themselves Brand New Friend after the Lloyd Cole and the Commotions track at the dinner table counsel of their dad. Aaron and Luke, Taylor's best friends joined soon after and the band fell together naturally. They are the epitome of that wholesome home-grown group of friends that so many bands strive for, joking, teasing, and interrupting each other as we chat.
It is quite obvious they are a group made up of individuals, all coming from different music backgrounds and scenes. Taylor, a self-proclaimed "child of Oasis" became a "Morrissey discipline" in his teen years is fan of 80s and 90s pop, whilst Aaron, raised on U2 and Stereophonics, discovered rock music, naming The Ramones, Pearl Jam and Soundgarden as some of his early favourites. Luke, by contrast, a hardcore Rage Against the Machine at age 8 developed more mellowed tastes which include Tom Waits, Nick Cave, and Leonard Cohen. Lauren mocks her younger self with a self-deprecating humour "like any 13-year-old girl, I loved Paramore" she laughs, crediting Hayley Williams for her wanting to be in a band in the first place. They've all had different hereditary influences. Aaron jumps in; his mum bought him his first guitar and taught the first basic chords, but it was his uncle, in a band himself, who is Aaron's true musical Yoda, "I remember driving round Belvoir in his kitchen fitter van listening to Queens of Stone Age," he reminisces. On the other hand, Luke's dad plays classic guitar, but not doing much with the skill set, it again fell to an uncle, this time Luke's uncle's punk band Dirty Stevie, to be credited musical muse. Lauren and Taylor, children of music appreciators more than musicians, praise their younger brother 14-year-old Logan who sits beside them on the sofa. "He's honestly a better guitar player than me, which is pretty scary" Taylor quips, but his tone is genuine and the others agree. It is mutually accepted that Logan is their honorary 5th member.
Brand New Friend's first EP American Wives, recorded in 2016, was a dream to put together. After being together for a mere fortnight, producer Rocky O'Reilly got the group together to record a single. When, within 30 minutes the first song was recorded and complete and the rest of the afternoon booked in, the band freestyled their way through an entire EP in two takes, consisting of 5 original songs. Music, Taylor says, is a living thing, it's spontaneous, there's no formula to it – it is a snapshot of how people were feeling at certain times in their lives. They are all adamant that capturing energy and life in a record is miles more important than a song sounding technically perfect.
Whilst music critics and journalists love to project their 'professional' opinion onto the group, "we've never listened to Lemonhead but apparently, they are a big influence on us" they jibe, Brand New Friend proudly have their own sound going on. Lauren muses, "because we all listen to such different music, there's not one dominant or unified vibe that comes through". Individually they all have their heroes, Luke says of Taylor "he'd be writing, trying to be John Paul Jones," whilst he himself, "just hits drums, trying to be Matt Cameron [drummer for both Pearl Jam and Soundgarden]".
Looking to the future, opportunities are snowballing for the group as they look to record a 2nd EP in the coming weeks. After touring around Ireland in January, short term goals are almost nebulous with the general consensus merely to gig as much as possible. "we're really rough around the edges," Taylor says and even filming their music video for single American Wives was done in the spirit of good fun on an iPhone camera. They laugh at themselves as they comment on their lack of image saying their music is more important, but it's refreshing hearing musicians not buying into the money grabbing culture that surrounds the industry today. All they look for in terms of praise is for people to tell them their music is enjoyed – Aaron comments, "if we reached number one in the charts I'd think 'wow that's amazing' but if we were gigging in a local bar and four people sang along I'd still think 'wow that's amazing.'" It isn't that they aren't ambitious, they simply have perspective, "it would be nothing short of a privilege to be asked to record an album, to be backed by a record company and told 'you are good enough.'"
Huge advocates for undiscovered musical talent, the group make a point of advising people to go out to explore and support local music scenes; it's cheap and you find bands that you will never hear on Spotify, they say before launching into an anecdote of a new band called Hot Cups they discovered at a gig the previous evening. "Just look out for music events," Lauren campaigns, challenges even, "go even if you haven't heard of any of the bands playing," the boys jump in, "even if the music is terrible it makes a funny story."
The conversation veers slightly as we start to discuss the commercial music industry. Lauren immediately announces there needs to be more girls headlining large festivals such as Glastonbury and Taylor agrees loudly, nodding his head enthusiastically as we slide off on a tangent of the bands' favourite inspiring female artists. There's Sonic Youth's Kim Gordon and the Marmozets' Becca Macintyre, Ellie from Wolf Alice, Lisa Hannigan, Darcy from Smashing Pumpkins, Meg from the White Stripes, Adele, Beyoncé ("obviously – she's the queen"), Sharon Van Etten, Nina Simone. I am amazed at the enthusiasm here, Lauren and Aaron grabbing their phones to scroll down Spotify for more inspiration; War Paint, Haim, Daughter, Pillow Queens – Aaron loves Sia and Taylor gives Ke$ha a shout-out whilst Luke namedrops Pussy Riot ("I'm serious, the world's fucked up at the minute – we need a bit of Pussy Riot). True to their nature, Brand New Friend also take this opportunity to give mention to their favourite local musicians; there's Melissa Shannon of R 51, a Belfast band of the same ilk as Smashing Pumpkin who create a massive, glorious wall of sound when they perform, Dublin based all-girl band Girlfriend and Kate Flynn of The Winter Passing.
Regarding the industry in general, Aaron has a refreshing view, "just be ignorant to it," people can come through from nothing and bands such as Catfish and the Bottlemen or Low Roar are a testament to that. You can jump into the industry if you want but if you love music just play gigs and see what happens. The marketisation of music, where the formula for a chart hit is a rap artist covering verses and a female pop artist riffing choruses about alcohol, drugs, sex, or money is boring, although Lauren is quick to defend pop music. "It can be clever," she says, "the problem is that chart music is overly saturated with music that lacks wit". Perhaps with recent recognition of this, pop music is shifting. Aaron is hasty to point to recent, more 'out there' musicians who break glass ceilings of the industry; The 1975, Foo Fighters, Foals and, most iconic of late, Ed Sheeran. The single, short-attention span iTunes culture of today stands as another problem. With a fall in the concept album as people buy one chart-topping song at a time (as exemplified in Ed Sheeran having 16 songs simultaneously in Top 20 singles chart) the public misses out on the story music can tell or indeed the art within music. Off the top of his head, Aaron throws out the example of The Streets' Dry Your Eyes Out, exasperated as he states, "the whole album is amazing but everyone's only heard that one song." Luke says the same, speaking of his beloved Soundgarden, "my favourite album of all time is Superunknown and their most famous song [Black Hole Sun] is on it and yet it is maybe the worst song on the entire album".
I ask them briefly for the new music they are listening to now and any sombre seriousness or frustration that had settled over the room lifts as they each pipe up, excited to share; Taylor's current favourite band is American group Cheap Haircuts, "they're just kids playing in their bedrooms and I love them", Aaron is revisiting old favourites Low Roar as revision for a new album being released soon and has discovered Protomartyr which he describes as "art rock grungy greatness". Luke admits he is still wading through Tom Wait's near 30 albums whose sound weaves from simple piano to jazzy cabaret to the Nightmare Before Christmas soundtrack whilst Lauren juts in declaring a love for Lorde's newest singles and Canadian indie pop group Alvvays.
I could talk to them for hours, but it's getting late and so I make a bid for last words. This is their advice; If you're a girl and can play music in any way, start a band or join a band or support local bands, Taylor grins, "girls are awesome and there needs to be more girls in bands because they are kickass" he announces as the rest of them begin to stir and stretch. It's been forty minutes of non-stop dialogue and as Brand New Friend get up to pack their instruments away, I think – MTV can eat their heart out, in my book, the Belfast music scene has something fundamentally exciting brewing here.
Find Brand New Friend on Spotify or Bandcamp
Follow them on Twitter: @BrandNewFriendz
Instagram: @BrandNewFriendz
SoundCloud https://soundcloud.com/brandnewfriend
Listen to their newest song, released 20th March 2017, on YouTube